BEAR & SON 115TANB TANTO BUTTERFLY KNIFE, 1095 CARBON BLACK BLADE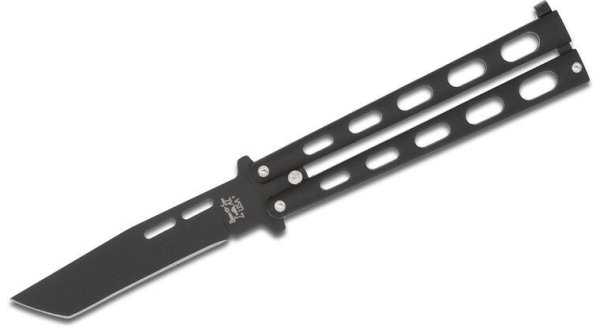 The 115 series of butterfly knives are one of several new knives released by Bear & Son Cutlery this year. This line of knives has expanded off of the popular 114 and 113 series of knives by offering different handle colors with the same traditional blade finishes and options. Offered in a wide variety of sizes, colors and finishes, these butterfly knives showcase pin construction and the blade smoothly operates on bronze phosphorus washers and precision ball bearing surfaces. This model features black casted zinc handles, a closing latch with a double tang pin design and a tanto style blade in a black finish. Made in the USA. Limited Lifetime Warranty
SPECIFICATIONS:
Blade Length: 4"
Overall Length: 9"
Blade Material: 1095 Carbon Steel
Blade Finish: Black
Handle Length: 5"
Handle Material: Zinc
Weight: 5 oz.
For Sale By: TN Knife Company (tnknife)
Accepted Payments: PayPal
Shipping Details:
Shipping & Handling to United States Addresses: $8.99
Viewed 203 Times
Check Out More Great Products Related To This One!!!