2016 AAPK Club Knife - 3 7/8" Antique Green Jigged Bone Stallion Jack Knife - 1095 Steel Blade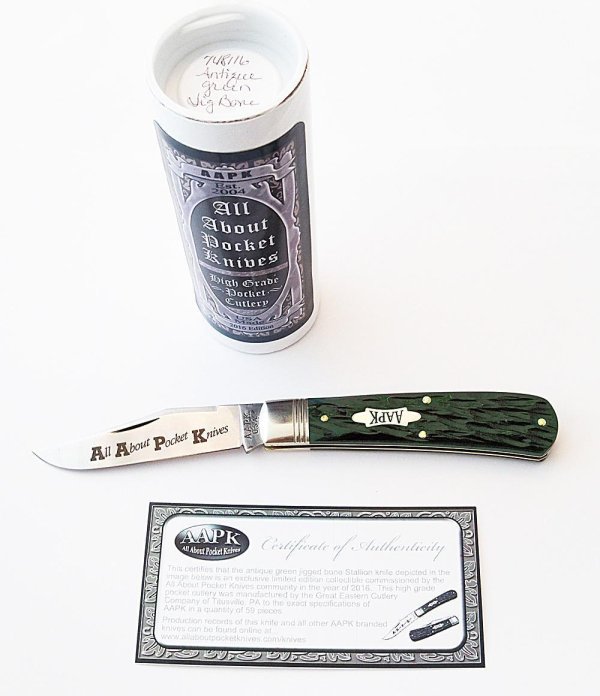 Specially made for the members of AAPK for the year 2016 by GEC:
This knife is built on GEC's 74 frame that was first introduced in 2012 as a two blade saddle trapper.  The saddle trapper was created to be similar to Tony Bose designed 3 1/2" trapper.  It had a clip & wharncliffe blade.
The "Stallion" is a single muskrat style clip blade variation of the original saddle trapper.
Details :
Limited edition (Only 59 made * )
Northfield version
GEC variation of muskrat clip blade made with 1095 high carbon steel
Top grade antique green bone handle material
Custom AAPK nickel silver shield that is pinned through to the liner
2016 date stamped on reverse side of the master blade
Limited lifetime warranty
* Quantities include the following variations
55 standard with mirror polished blade
2 standard with satin finished blade
1 factory second with mirror polished blade
1 factory second with satin finished blade
This product was built by exceptionally skilled American craftsmen using extremely high quality premium grade materials.  This combination is sure to please both the serious collector and user of high quality pocket cutlery.
For Sale By: The AAPK Store (AAPK)



Shipping Details:
Shipping & Handling to United States Addresses: $5.75
---
Shipping Discounts Available for Multiple Items Purchased from The AAPK Store:
If this item is purchased with another item from The AAPK Store that has a shipping cost of $5.75 or more, standard shipping to US addresses for this item will be discounted to $0.00.
Viewed 17457 Times
Check Out More Great Products Related To This One!!!