Case's Pre-Dotted 54 Pattern
By: Gary Moore
© Knife World Publications 2005: all rights reserved, used by permission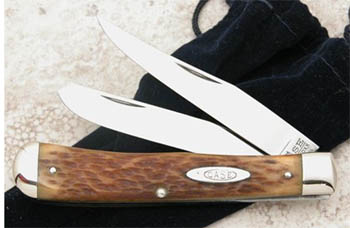 W.R. Case & Sons has been in the knife business for over 100 years, and after all this time, untold numbers of beautiful knives have come down the pike. It was during the tested era that I believe this grand old company outdid itself by creating one of their all time greats. The knife I'm referring to is of course the fabled Tested XX 54 Pattern Trapper.
I would like to cover a few basics before we proceed, for those readers who may not be that familiar with Case knives. To begin with, the Case numbering system, which makes up the pattern number, tells you a lot about the knife you are holding. Most often it consists of four digits. The first digit denotes handle material. The second digit reflects the number of blades. The last two are the company assigned factory pattern number, which in this instance is 54, thus the "54 Trapper". For example a knife bearing the pattern number 5254 would be a stag handled, two-blade trapper. Incidentally, the 54 Trapper is 4-1/8 inches closed. As you can see in the photos, it has full length clip and spay blades.
It may also be helpful to briefly discuss the time frame covered in this article; you will recall that this article is about the "Pre-Dotted" 54 Pattern. Beginning in 1970 Case knives had 10 dots, with one dot being removed for each year thereafter- for example 1979 Case Knives had one dot. So we are discussing 54 Trappers from their introduction during the tested era (c.1920-1939), up through the XX era (1940-1964) and the USA era (1965-1969). In other words, 54 Trappers manufactured before the first dotted era, which began in 1970.
THE TESTED ERA TRAPPER (c.1920-1939) – "THE PEACEMAKER OF KNIVES"
I like to think of the Tested 54 Pattern Trapper as the Colt "Peacemaker" of knives, and like the Peacemaker, there are many clones and look-alikes, but the Tested Trapper is one of a kind. The Tested Trapper was made to be used, and many were used to the point that you can no longer see the original shape of the blades. However, if you are lucky enough to find one with full blades, then you can see what I believe sets this knife off- the master blade!
The master blade is hard to put into words, but once you have seen it you will know it when you see it again. It is long, very pointed, and flows fluidly in an up-swept motion toward the tip. Just being familiar with the shape of the distinctive master blade has put the brakes on more than one fake. The Tested Trapper's master blade has more sexy curves than Marilyn Monroe and has not been duplicated since.
The 54 Trapper was first introduced during the Tested era, so any earlier tang stamp should be avoided. The Tested Trapper's tang stamp should be located on the master blade only. No marking should be present on the secondary or spay blade.
The bolsters on the Tested Trapper are shorter than on later Case Trappers, and the overall knife has a more slender appearance. Handle materials on Tested era Case Trappers consists of Winterbottom bone, Green bone, Early Rogers bone, Red stag, Second cut stag, Yellow Composition, and Cracked ice.
Winterbottom bone is rare on Case knives and is seen primarily on pre-1940 knives. Winterbottom bone has a unique jigging pattern with long lengthwise grooves. Green bone was used very heavily during the Tested era (c.1920-1939) and was used on Tested Trappers; It has a green to a greenish brown color. Green bone jigging has tight and fine cuts that run in a series of straight lines. Early Rogers bone was also commonly used on Tested era Trappers, it had a jigging pattern that is irregular, and a lot of it is brown or tan in color with a splash of yellow thrown in from time to time.
Red stag is probably one of the more desirable handle materials to be had on the Tested Trapper. To be honest with you, I don't really think anyone knows how the red tint was acquired on old red stag, however there is no doubt about its unmistakable good looks. Sometimes the Tested Trapper will appear with stag handles, which are acquired from the antlers of both the Chital and Sambar deer of India. These antlers were perfect for cutlery handles because they contained little or no marrow. Red second cut stag is also seen on the Tested Trapper from time to time, some of these knives will catch your eye from across the room.
To conclude the handle material on the Tested Trapper, you can add Yellow composition and Cracked ice celluloid. These two are obviously man made materials. Some price guides also list Red bone handles for Tested Trappers, however there is some debate as to whether or not this combination actually exists. I've personally never seen one I thought was authentic, so until proven otherwise I'll leave the Red bone matter up for debate.
From the short lower bolster all the way out to the sharp point of the elegant master blade the Tested Trapper is a true work of art, every part seemingly in contentment with the overall knife. But alas, the Tested Trapper happens to be a very rare specimen, especially mint ones. Tested Trappers that are in excellent condition or better will very quickly leave you several thousand dollars lighter in the pocket book.
These knives are bringing big money now, and along with that comes counterfeiting. Make yourself familiar with tang stamps of this era and what they should look like. Also, make sure the front and back sides of the tang are the same, both in appearance and thickness with the tang line running all the way across. Because the Tested Trapper does not have a pattern number it is always a good idea to view the saw marks and handle pins under a loupe, to assure the knife is wearing its original scales. Make sure the saw marks are not recent, and familiarize yourself with handle materials used on trappers of this era. Gerald Witcher's book Counterfeiting Antique Cutlery has some great pictures of Tested era tang stamps; and many other tips on detecting fakes, it is available direct from KNIFE WORLD (see p. 33)
I prefer Tested Trappers with Tested shields, but sometimes you will see authentic Tested Trappers with the XX era shield; either shield is correct. Once again it would be wise to view the shield under a loupe, and make sure the handle material is routed out nice and tight around the shield. Look for glue or any sign the shield may have been replaced. Also don't forget to look inside the knife for protruding pins or other signs of work.
The Tested Trapper's graceful lines and curves make it my favorite, and when you hold one you are holding a relic of another time. The heyday of the Tested Trapper has faded forever into the distant past, but the knife lives on more popular today than ever before. And I still say she ranks right up there with the old Colt Peacemaker!
***This was a cover article in the November 2005 issue of Knife World ***
This material was reprinted by permission. Contents copyright 2005 by Knife World Publications. Reprinting in whole or in part is forbidden except by permission of the Publisher.
Also special thanks to the author Mr. Gary Moore who regularly writes for Knife World. To see the full version of this article Please contact Knife World.
Have Knives to sell? We offer exciting selling opportunities!
If you are a regular seller of knives, you definitely need to check out our knife specific retail platform. It is an extraordinary venue for buying & selling knives. Inventory turnover is great & the commission rate is incredibly low. Visit our getting started selling page to learn more!
If you are not a knife retailer & just have a few knives, or a collection of knives you want to sell; many of our members buy knives & knife collections of all sizes. If you would like to get offers, contact us & tell us what you've got. We'll pass your info on to the many buyers who may be interested.