Remington Pocket Knife Tang Stamps
Most knives manufactured by Remington have either a circle style stamp or a straight Line stamp.  Remington used the circle stamping system on its higher quality knives, and the straight line stamp on its lesser quality knives.
Below you will find pictures of most tang stamps Remington used over the company's many years of manufacturing. Hopefully you will find this information very useful in determining the age of any given Remington knife.
Be sure to stop by our store when you get finished researching so you can shop for Remington pocket knives & add some great vintage & historic items to your collection!
Straight Line Stamps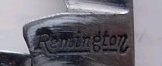 Circle Stamps
Used approximately 1921-1924

Used c 1924-1933
c 1933-1935

c 1935 – 1940
Have Knives to sell? We offer exciting selling opportunities!
If you are a regular seller of knives, you definitely need to check out our knife specific retail platform. It is an extraordinary venue for buying & selling knives. Inventory turnover is great & the commission rate is incredibly low. Visit our getting started selling page to learn more!
If you are not a knife retailer & just have a few knives, or a collection of knives you want to sell; many of our members buy knives & knife collections of all sizes. If you would like to get offers, contact us & tell us what you've got. We'll pass your info on to the many buyers who may be interested.