Cattaraugus Knife Numbering System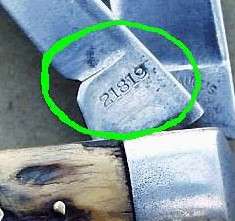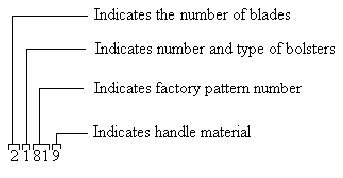 [Click to see bolster variations] [Click for list of handle materials] [Click for a list of factory pattern numbers]
Most Cattaraugus knives have a series of numbers stamped on the tang that represent certain characteristics.  On a typical knife, the number will consist of four to six digits. The first digit indicates the number of blades on the knife, the second represents the type of bolsters on the knife, the next 1, 2, or 3 signify the factory pattern number, and the last indicates the handle material.
In addition to the pattern number, some knives have additional letters called blade abbreviations. These letters represent additional features on the knife. [Click here for a list of blade abbreviations]
Have Knives to sell? We offer exciting selling opportunities!
If you are a regular seller of knives, you definitely need to check out our knife specific retail platform. It is an extraordinary venue for buying & selling knives. Inventory turnover is great & the commission rate is incredibly low. Visit our getting started selling page to learn more!
If you are not a knife retailer & just have a few knives, or a collection of knives you want to sell; many of our members buy knives & knife collections of all sizes. If you would like to get offers, contact us & tell us what you've got. We'll pass your info on to the many buyers who may be interested.