Vintage 1950's Black Bandit Italian Stiletto Ad Postcard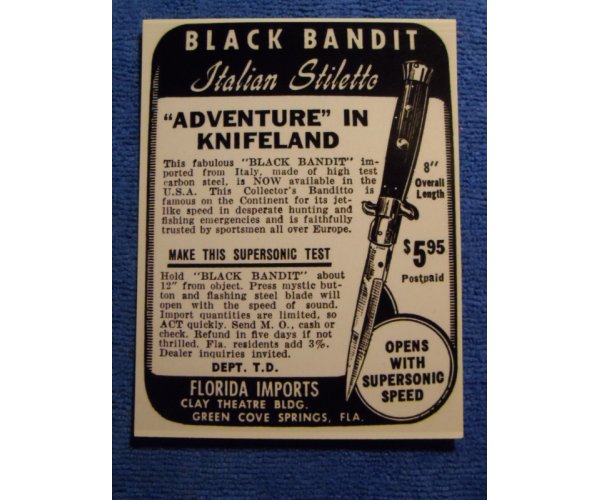 Vintage old Italian Stiletto automatic switchblade pocket knife ad postcard 4" x 5-1/2" size , this is a hi-quality re-print of the rare and infamous Black Bandit Italian Stiletto knife -( adventure in knifeland) (opens with supersonic speed) -(make this supersonic test) -- Italian automatic pocket knife switchblade ad from  1955-1960.
For Sale By: Folgore Knives (Folgore1)


Shipping Details:
Shipping & Handling to United States Addresses: $2.50
---
Shipping Discounts Available for Multiple Items Purchased from Folgore Knives :
If this item is purchased with another item from Folgore Knives that has a shipping cost of $2.50 or more, standard shipping to US addresses for this item will be discounted to $0.50.
Viewed 191 Times
Check Out More Great Products Related To This One!!!