The basic army-issue clasp knife with marline spike and tin opener in the first part of the 1900s was the pattern 6353/1905. It first appeared in 1905 and remained basically the same until the start of WWII. The original spec comprised of stag scales. The first knife in pic 1 is an example made by Hunter Sheffield and marked with the Broad Arrow and I for use by troops in India.
Just before WWI, in 1913, the specs were updated. The scales were changed from stag to chequered horn. The three attachments to be made of the best 'cast steel'. The overall length closed is 4 7/8 inches with the spear blade 3 1/2 inches from kick to point. The shackle made from number 11 guage copper wire. These were the basic GI folder in WWI. Two typical examples seen in pic 1 made by Jos Rodgers & Sons and Frank Mills. Both marked with W arrow D; the War Department mark.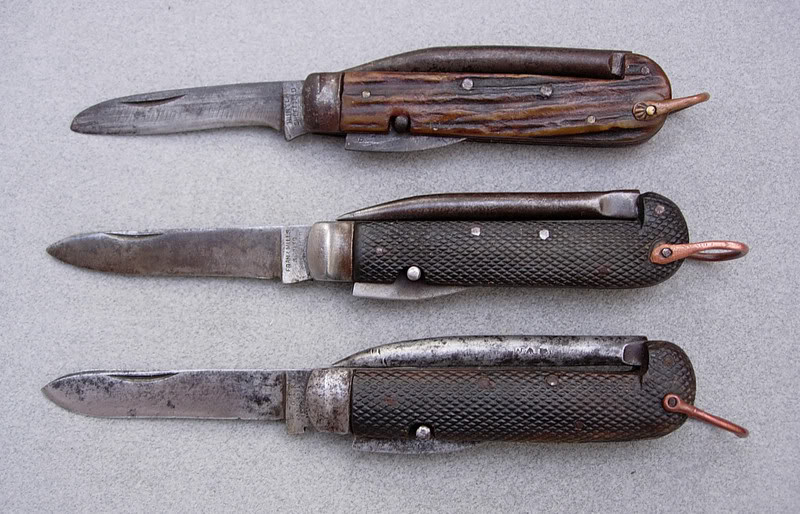 Next are three examples of circa WW1 knives for use by Canadian Forces. The first is the typical British 6353 knife made by Wostenholm, but marked on the spike with the Canadian broad arrow inside a C. The middle knife is the same basic spec made by Thomas Turner & Co but with metal scales. The handle is marked with M & D for Militia and Defense 1915. The last knife in the photo was made for the Canadian forces by Schatt & Morgan of Titusville PA. Beautiful bone scales on the this one and a nail nick on the can opener is different from the Sheffield-made knives.
While not an official issue knife, the jack knives with tin opener and bone scales were included in gift boxes sent to the troops during WWI. This example was made by Wade and Butcher.
Please feel free to add knives, cooments or questions. Thanks for looking.

s-k