By: Gary Moore
© Knife World Publications 2006: all rights reserved, used by permission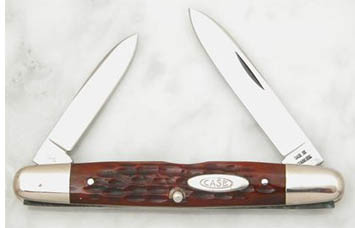 Dwight D. Eisenhower was born in Denison, Texas on October 14, 1890. As a child his family moved him to Abilene, Kansas, where he was raised. His days were largely spent doing family chores. In his free time, young Eisenhower loved to hunt and fish when he was not playing football.
Dwight D. Eisenhower, more affectionately known as "Ike," was one of America's greatest military commanders, and the thirty fourth president of the United States. Eisenhower was appointed to the United States Military Academy at West Point in June of 1911, graduating in 1915. Later, Ike served as a military aide to General John J. Pershing and also to General Douglas MacAuthur. Just prior to the United States entering the Second World War, Ike earned his first star and was promoted to Brigadier General. By 1944 Eisenhower was Supreme Commander of "Operation Overload," the Allied assault on Nazi-occupied Europe. He was commanding the greatest invasion forces known to man at that time.
Upon his return home in 1945, Ike served as Chief of Staff to the Army. Eisenhower was now a hero and dearly loved by the American public. After the outbreak of the Korean War, Ike served as the first Supreme Commander of NATO forces in Europe. In 1952 he won the Republican Party's Presidential nomination. Ike served two terms as President of the United States (1953-1961).
The above mentioned facts are just a drop in the bucket concerning the accomplishments of this great man. It would be futile to try to list them all here.
It is inspiring to know that a man of such great stature could be afflicted with this malady I call "knife fever." If you are reading this article you probably have it too, it gets into the blood and you can not get it out – nor do you desire to. Your knife interest may be different than mine, but we are subspecies of the same animal. I guess in the end, even great men like Ike take pleasure in the simple things in life – and one of the greatest pleasures in life is a good knife. Word has it that Ike liked knives, and that his choice was the 3-1/8 inch equal end '63 pattern manufactured by W.R. Case & Sons Cutlery Company.
Because of the affiliation between former President Eisenhower and the equal end '63 pattern, it has been dubbed the "Eisenhower pattern." Some of these knives even bear Eisenhower's signature on the master blade. Like many Case Knives the Eisenhower pattern is no spring chicken, in fact it pre-dates 1920. Throughout its long history, the 06263 Eisenhower pattern has changed very little save handle materials, shields, tang stamps, and the usual transitional changes.
PRE-1920 ERA
Like many Case knives produced prior to 1920, it seems that old Rogers bone, with its inconsistent style of jigging, was used frequently on the Case Eisenhower. Sometimes old Rogers bone of the pre-1920 era seems to have a somewhat different jigging pattern than say Rogers bone of the Tested era (c.1920-1939). The color of old Rogers bone prior to 1920 can vary somewhat – dark brown, tan and what appears to me as a honey color can frequently be seen. Some knives bearing old Rogers bone handles during this early period (pre-1920) are also highlighted with a brilliant yellow, almost to the point of resembling a flame.
There was also a little bit of green bone used on pre-1920 Case knives; some of this green bone resembles Tested era green bone (c. 1920-1939) both in color and jigging style. The color of this material has suggestions of green to green-brown, with the characteristic tight and fine cuts running in a series of straight lines, which makes up the jigging pattern. At other times pre-1920 green bone has bigger cuts, and is sometimes known as big jigged green bone. I remember seeing two of these early Case Eisenhower patterns handled in green bone, and both were manufactured during the Case Bradford era (c. 1915-1919).
Several years ago I owned a pre-1920 Case Eisenhower pattern which was also manufactured during the Case Bradford era. It was handled in a rather ancient looking stag. The intriguing thing about stag is that is derives its beauty from the natural character of the antler, which results in much individualism in handles. It is, however, desirable that both front and back handle closely match. It is absolutely amazing to think that some long-dead sambar buck over in India could be responsible for such beautiful handle material.
Genuine mother of pearl was popular during the pre-1920 period, so it is not surprising to learn that the Case Eisenhower was also handled in this material.
There was at least a little bit of celluloid used for scales on the Case Eisenhower prior to 1920. I never will forget a beautiful Gold Stone celluloid Case Eisenhower owned by the late Jim Parker. Jim offered to sell me the knife; I passed it up at the time and regretted it later. This Gold Stone Eisenhower was also a product of the Case Bradford era (c. 1915-1919).
The stag handled Bradford era Case Eisenhower I used to own was equipped with a raised letter diamond shield. Popular belief is that this shield was used from about 1914 until about 1925.
TESTED ERA
As the Case Eisenhower pattern moved into the Tested era (c. 1920-1939), green bone handles became more prevalent. Rogers bone, which seems to dress up any knife, also saw some use with the Tested era Case Eisenhower. An elderly company by the name of Rogers Manufacturing Company produced Rogers bone out of their factory in Rockfall, Connecticut, which started operations in the late 1800s. Stag is sometimes seen on the Tested era Case Eisenhower, being a staple in W.R. Case & Sons' handle materials since the early days of the company.
Mother of pearl was also used on the Eisenhower pattern in the Tested era. Mother of pearl is one of the few handle materials that man has not been able to duplicate very closely. The plastic age has produced synthetic handle materials to imitate bone and stag, and sometimes you have to look very closely to discern the difference. Pearl, on the other hand, displays a veritable rainbow of colors when light strikes it, which imitation pearl fails to do.
Some Case Eisenhower patterns were handled in celluloid during the Tested era. Celluloid, as a handle material was most popular during the Tested era. It was easy to mold and could be impregnated with any color of the rainbow. Celluloid is not a very stable material however, and sometimes it will disintegrate. As this happens the celluloid gives off fumes that can rust and corrode other knives, and for this reason it is advisable to store them separate from other knives. It is also very flammable and has the tendency to shrink.
The most common shield used on this knife and others during the Tested era was the old "closed" or "circle" C, but some were produced with the diamond shield as well.
XX ERA
When the XX era rolled in (c. 1940-1964), W.R. Case & Sons seemed intent on making a couple of changes to the little Eisenhower pattern. Stainless blades began to show up, and some even had a file blade. Handle materials for the Case Eisenhower during this period include green bone, red bone, bone, red stag, and stag. The most common shield used on the XX era Case Eisenhower was of course the XX shield, which has the open C and a tall S.
USA ERA
During the U.S.A. era (c. 1965-1969) the Case Eisenhower was loaded up with stainless steel blades – if there were any carbon blades used at all, I have yet to see one. The U.S.A. first model Case Eisenhower had a brushed finish and was etched TESTED XX STAINLESS lengthwise along the master blade. It also had bone handles, making the pattern number 06263 SSP. Most of these stainless blade knives have a brushed finish with polished edges – thus SSP – but a few first models can be found with polished blades. Incidentally, the Eisenhower was one of six Case knives manufactured with stainless steel blades and polished edges, the other five are the 61048 SSP, 62048 SSP, 6254 SSP, 6318 SSP HP, and 6347 SSP HP.
Regular model U.S.A. era Eisenhowers are etched TESTED XX RAZOR EDGE, but are otherwise the same as the first models. During the U.S.A. era, the Case Eisenhower was produced both in large and small tang stamps, and with etched and non-etched blades. Both stag and bone were used for handle materials during the era. The U.S.A. shield was the usual adornment for the Case Eisenhower during this period. It had the open C with a short S.
THE CIRCUMSTANCES
My principal design was to cover the '63 pattern "Eisenhower" during the lifetime of former President Eisenhower, who passed away on March 28th, 1969. So now that we have given the knife a rather thorough going over, let's look at how the former President's name came to be attached to the little '63 pattern.
During the late 1950's, President Dwight D. Eisenhower arranged a three-day fishing trip to Quonset Point Naval Air Station in Rhode Island. He had five sailors convert a PT boat into a fishing vessel. At some point during the trip, the President gave each of the five sailors an 08263 Eisenhower pattern, handled in mother of pearl.
During his administration, President Eisenhower purchased a Case Eisenhower pattern from a dealer in Texas. Evidently the President fell in love with his new knife. He liked it so much that he frequently presented them as gifts at the White House.
It also appears that another President has rubbed elbows with the Case Eisenhower pattern. Several years ago the president of a hardware distribution company was dining with President George Herbert Walker Bush, and his wife Barbara. The president of the hardware distributor presented President Bush with a pearl handle Case Eisenhower pattern, by way of one of Bush's agents. After explaining the relationship between President Eisenhower and the Case Eisenhower, Bush was said to have been thrilled to receive the knife. President Bush had one of his agents call the man and thank him personally. He relayed to the man how much he enjoyed using the knife on his ranch, and wanted to know if he could buy more. It is reported that the President's order was quickly filled.
As I researched for this article, my original design was to feature the above mentioned '63 pattern knife alone, which is commonly referred to as the "Eisenhower pattern." But as I dug deeper, things began to surface that I had never read about or heard before, and I found myself asking this question: "Did Ike have another favorite knife besides the Eisenhower pattern?" I believe the evidence shows that he probably did. It is not too far fetched for a man to have more than one favorite knife. Once, while commenting on my favorite knife, my wife Susie interjected "You don't have a favorite, you like them all." She's right, of course. Maybe Ike had similar feelings.
One of my research sources was the Eisenhower Presidential Library and Museum, located in Abilene, Kansas, were Ike grew up. The museum has in their collection two pocket knives that actually belonged to former President Dwight D. Eisenhower. You may already be suspecting that although these are Case knives, they are not the well known Eisenhower pattern (06263), which is said to have been a popular gift given by the former President to visitors and dignitaries.
In response to my initial query, Eisenhower Presidential Library and Museum Archivist Valoise Armstrong replied, "President Eisenhower did own two pocketknives made by [W.R. Case & Sons]…I checked with our museum curator who verified that we have knives, but the model is 6333, not 06263. The knives we have were gifts from Lt. General Floyd Parks and Kevin McCann. J. Russell Osborne, President of W.R. Case, also gave President-elect Eisenhower a set of pearl-handled steak knives on December 25, 1952. There is an index card documenting that the Eisenhowers received this gift but no further information."
She continued: "Mr. Osborne also wrote to the President in May of 1955. He had heard that Eisenhower was giving gifts of pocketknives at his stag dinners. The President gave these informal dinners for Republicans, businessmen and others. Osborne stated that Case knives were the finest, and that if the President was going to be giving away pocketknives to stag dinner guests, he should be giving the finest available. He offered to have them engraved for the occasion, as needed. James Hagerty, the Press Secretary, responded to Osborne and thanked him for the offer. He told him that there was no need at that time for more knives, but that he would keep him in mind. I can find no records of any Case knives actually being used as gifts by President Eisenhower."
Later, I received a second message from Ms. Armstrong, "Mr. Moore, after talking to one of our staff members, I did find more information. As it turns out, the knives were not provided by the company. An acquaintance of Eisenhower's, Frank Wood of Wichita Falls, Texas, provided several boxes of W.R. Case knives. In the card files that list gifts given to the President, Wood is listed as having given at least fifty-four boxes of knives. Not every card provides the name of the manufacturer, but those that do listed them as model 6333 Case knives or as pen knives with 2-1/2 inch blades. Some were engraved with Eisenhower's initials and a date, presumably to be given on a specific occasion, such as the stag dinners. Eisenhower also presented the knives to persons who helped him in Fitzsimmons Army Hospital following his heart attack. He also occasionally presented the knives when on official trips, such as a trip to Geneva, Switzerland in 1955." Ms. Armstrong further related that "This [research] really was a bit of team effort building on previous searches by other staff members…at the Eisenhower Library."
Dennis Medina, curator at the museum, then emailed me two photographs of the knives, and provided the following additional information: "The knives are stamped CASE XX and the lead blade is engraved D.D.E OCT. 54."
Although Mr. Medina did not describe the handle materials, I can tell you that they are red bone from the color images he sent. The handles are almost blood red. These are both pattern number 6333 knives; at only 2-5/8 inches long closed it is sometimes known as the "baby stockman" or the "tiny stockman." The '33 pattern Case also came in a two blade version with a blade on each end, and is known as a penknife. The little '33 is also a very old pattern, predating 1920. Though small, it has some very big fans.
W.R. Case & Sons can take heart in the fact that President Eisenhower took a shine to more than one of their knives. Maybe they can call it the "Little Eisenhower"!
Authors Note: I would like to offer my sincere thanks to Dennis Medina, Valoise Armstrong, and the entire staff at the Eisenhower Presidential Library and Museum for their contributions to this article – without them and their prompt responses, everything would have been much more difficult! I would also like to give thanks to Shirley Boser (Official Case Historian) for the information she provided. God bless each and every one of you!
***This was a cover article in the March 2006 issue of Knife World ***
This material was reprinted by permission. Contents copyright 2006 by Knife World Publications. Reprinting in whole or in part is forbidden except by permission of the Publisher.
Also special thanks to the author Mr. Gary Moore who regularly writes for Knife World.
Have Knives to sell? We offer exciting selling opportunities!
If you are a regular seller of knives, you definitely need to check out our knife specific retail platform. It is an extraordinary venue for buying & selling knives. Inventory turnover is great & the commission rate is incredibly low. Visit our getting started selling page to learn more!
If you are not a knife retailer & just have a few knives, or a collection of knives you want to sell; many of our members buy knives & knife collections of all sizes. If you would like to get offers, contact us & tell us what you've got. We'll pass your info on to the many buyers who may be interested.