Remington's Numbering System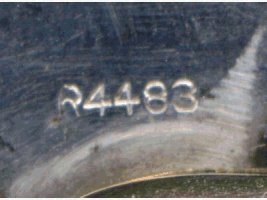 [ list of handle materials ]   [ list of factory pattern numbers ]
Most Remington knives have pattern numbers stamped on the reverse side of the master blade.  The number usually consists of between three to five digits.  The first digit on folding knives will always be an R.  This indicates that it is a folding knife.  The last digit will indicate the handle material, and the numbers in the middle indicate the pattern.
Some knives will have fewer digits while others have more.  One example of this is knives with chains attached.  These have the letters CH following the pattern number.

You will find that Remington was a prolific knife maker & there are many different numbers you might come across.  We recommend that you check out the knives in our patterns section and those in our Remington knife image gallery. 
When you find a favorite or two, of course you will need to stop by the AAPK Member store on occasion to shop for Remington knives & see if you can find one or two.
Have Knives to sell? We offer exciting selling opportunities!
If you are a regular seller of knives, you definitely need to check out our knife specific retail platform. It is an extraordinary venue for buying & selling knives. Inventory turnover is great & the commission rate is incredibly low. Visit our getting started selling page to learn more!
If you are not a knife retailer & just have a few knives, or a collection of knives you want to sell; many of our members buy knives & knife collections of all sizes. If you would like to get offers, contact us & tell us what you've got. We'll pass your info on to the many buyers who may be interested.