Remington Pocket Knife Pattern Number Reference Guide
Remington made a huge variety of different knife styles. This page illustrates how they stamped each frame style with a unique number to identify the pattern. We also include a list of a few of the many different patterns Remington made.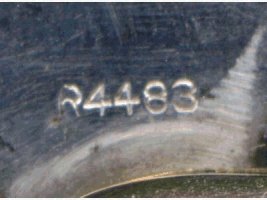 Remington's pattern numbers were assigned by the style of knife.  Knives with stamps between  R1 and R2999 are Single End Jackknives.  Those with stamps between R3000 and R5999 are either double end Jackknives, cattle, premium stock, farmers, mechanics, or scout knives.  Those with numbers between R6000 – R9000 are pen knives or whittlers (Many collectors refer to whittlers as pen knives).  I have included several examples, but not all.  Remington manufactured so many patterns that it would be near impossible to list them all.
If you have a Remington knife that is not listed here, please consider uploading a picture of it to the Remington Pocket Knife Image Gallery or posting it on our Remington knife specific discussion board.
Be sure to stop by our store when you're done here & shop for Remington pocket knives to add some great old knife patterns from one of the top collected brands to your collection!
Remington Pattern numbers R1 – R2999
R33

R123

3 1/2″
R163
3 1/2″
R173

3 3/4
R282

R293

R523

3 1/2″
R698

R953
R1123
R1128
R1173

R1213

R1253

R1306

R1568

4 1/8″
R1613

Remington Pattern numbers R3000 – R5999
R3513
R3553
R3852
R3943

R3993
R4243

R4334
R4353

R4466

R4723

R4733
Remington Pattern numbers R6000 – R9999
R6390
R6465

R6764
R6823

R7233
R7584

Have Knives to sell? We offer exciting selling opportunities!
If you are a regular seller of knives, you definitely need to check out our knife specific retail platform. It is an extraordinary venue for buying & selling knives. Inventory turnover is great & the commission rate is incredibly low. Visit our getting started selling page to learn more!
If you are not a knife retailer & just have a few knives, or a collection of knives you want to sell; many of our members buy knives & knife collections of all sizes. If you would like to get offers, contact us & tell us what you've got. We'll pass your info on to the many buyers who may be interested.