GEC's 2007 Knife Production Totals
Following the 2006 tang stamp era in which the only patterns made were the #23 Pioneer knife & #73 Scout knife, GEC introduced four distinct new knife patterns in 2007.
The first new pattern introduced with a 2007 tang stamp was a cigar style frame that has been configured as a stockman, a Jack, a whittler, a muskrat, & a moose. The next three were all fixed blades of various lengths that were assigned pattern numbers 10, 50, & 60.
Examples of all of these 2007 stamped knife patterns along with most others can be seen in picture form on our GEC Knife Image Gallery.
Several more 23 & 73 knives were manufactured as well. Some are extremely rare. Check out the complete production totals below:
Be sure to stop by our store when you're done here & shop for Great Eastern Cutlery brand pocket knives to add some great examples from one of the best factory knife manufacturers in the world today.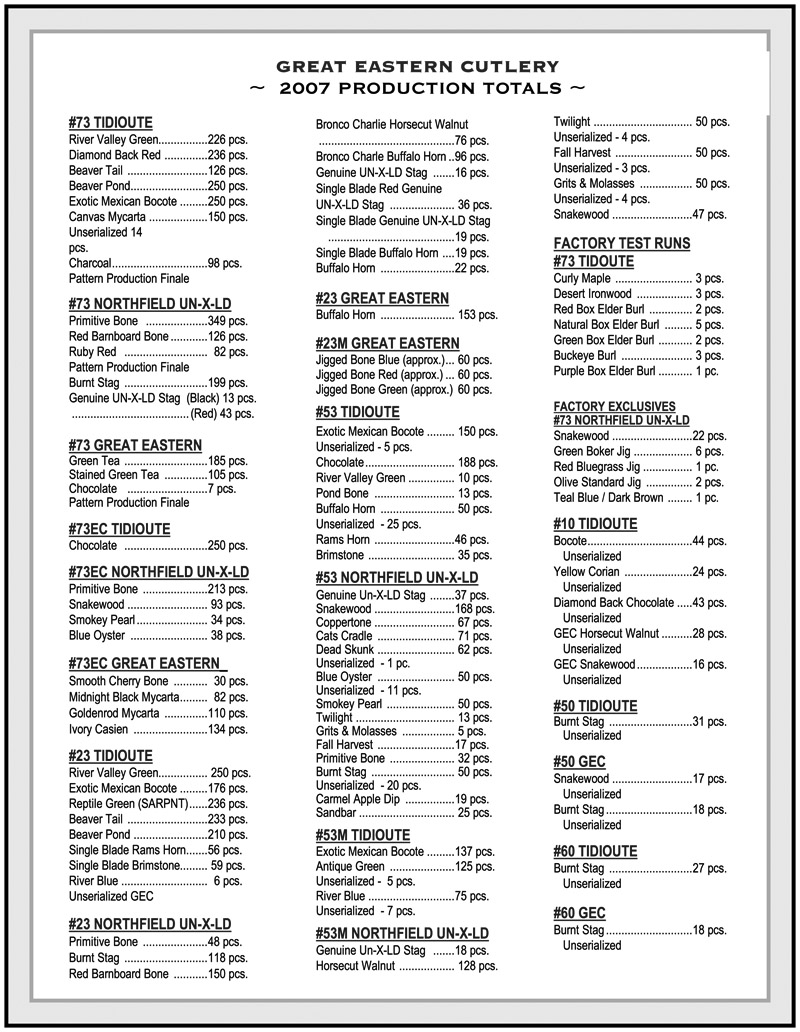 Have Knives to sell? We offer exciting selling opportunities!
If you are a regular seller of knives, you definitely need to check out our knife specific retail platform. It is an extraordinary venue for buying & selling knives. Inventory turnover is great & the commission rate is incredibly low. Visit our getting started selling page to learn more!
If you are not a knife retailer & just have a few knives, or a collection of knives you want to sell; many of our members buy knives & knife collections of all sizes. If you would like to get offers, contact us & tell us what you've got. We'll pass your info on to the many buyers who may be interested.