Cattaraugus Bolster Variations
On Cattaraugus Knives, The the second digit of the pattern number indicates the type of bolsters used to make the knife.  For example: the pattern # 21819 tells you that the knife will have front bolsters only because the # 1 is used by Cattaraugus to indicate a single front bolster.
Below, you will find a list of all of the bolsters used by Cattaraugus.  You will also find pictures for clarification.
---
0 = No bolsters
---
1 = Front bolsters only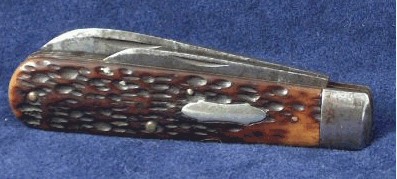 ---
2 = Front and rear bolsters


---
3 = Tip bolsters


---
4 = Front and rear bolsters with easy open feature


---
5 = Slant bolsters

Have Knives to sell? We offer exciting selling opportunities!
If you are a regular seller of knives, you definitely need to check out our knife specific retail platform. It is an extraordinary venue for buying & selling knives. Inventory turnover is great & the commission rate is incredibly low. Visit our getting started selling page to learn more!
If you are not a knife retailer & just have a few knives, or a collection of knives you want to sell; many of our members buy knives & knife collections of all sizes. If you would like to get offers, contact us & tell us what you've got. We'll pass your info on to the many buyers who may be interested.