Case XX Knives by Name P-S
---
Peanut: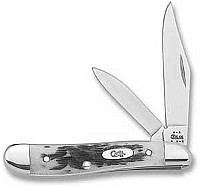 The Peanut is a 2 3/4″ serpentine style jack knife that has the pattern #20
---
Pen:
The name pen is shared by many knives.  As a general rule, it describes any double ended knife that measures less than 3 1/2″ closed. Some pens include the senator or equal end pen, the sleeveboard pen, and the premium pen.  Senator pens are those with a perfectly oval shaped handle.  Sleeveboard pens have a handle that tapers to a narrower rear.  Premium pen knives are generally classified as pen knives that share the pattern number with a stockman knife.  This is of course subject to argument, but most collectors categorize pens in this manner.
---
Pocket hunter: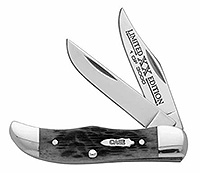 The pocket hunter is a 2 3/4″ clasp style jack knife that is represented by the pattern #165.
---
Premium Pen knife:
Sometimes called small or baby half stockman The name premium pen is generally given to any double end knife that has two blades, is smaller than 3 1/2″ closed, and has the same pattern number as a stockman. Pattern #'s 027 and 33 are examples of premium pen knives.
---
Premium Jack:
Sometimes called half stockman knives.
The name premium jack is given to most knives that have the same pattern number as a stockman, but only have two blades that open on the same side.  A few double end knives are called premium jack knives, but only when their length exceeds 3 1/2″.  Any double end knife that is smaller than 3 1/2″ and has two blades are usually referred to as premium pen knives.
Patterns that most often go by the name premium jack include the 27, 32, 44, 47, 87, and 92.
---
Physician's Knife:
---
Pruner's Knife: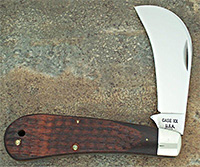 Also known as a hawk bill knife.  Case's most recognized pruner's knife is their 011 pattern.
---
Regular Jack Knives:
Regular jack knives are single or two-blade single end knives that do not have a distinct name for themselves.  These are very stout knives that make excellent working knives, but are not usually the most desired by collectors.  Many of these knives are known as teardrop jacks or swell end jacks because the rear of the knife is wider than the front.  The 99 pattern is the most collectable.  Other patterns include the 14, 31, and 35.
---
Riggers Knife: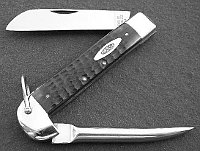 Also known as a Marlin Spike.
Case's Rigger's knife measures 4 3/8″ closed and has the pattern #46.
---
RussLock:
The Russlock has the pattern number 953 and measure 4 1/4″ closed.
---
Saddlehorn: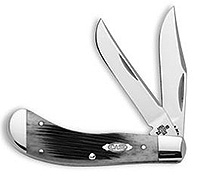 Also known as a beavertail jack knife.
Case's most recent production that goes by the name saddlehorn is the 110 pattern. Their oldest is their 100 pattern.
More About Pattern # 110 | More About Pattern # 100
---
Senator Pen:
Also known as Equal End Pen.
The senator pen has a perfectly oval shape and includes the 79 and 01 pattern.  These are the most common style of pen knives made.
---
Sausage Tester:
---
Serpentine Knife:
Many knives include the name serpentine. There are serpentine jack knives, serpentine stockman knives, and serpentine pen knives.  The term simply describes the shape of the handle.  They generally have an s curve, much like a snake or serpent (hence the name).  If you hear a knife described as a
serpentine pen, it will more likely than not be a premium pen.  The same goes for serpentine jack knives as they are often synonymous with premium
jack knives.  Almost all stockman knives have at least a slight s shape, so can be referred to as a serpentine stockman or stock knife.
---
Shark's Tooth:
See Lockback Folding Knives; pattern #97
---
Sidewinder: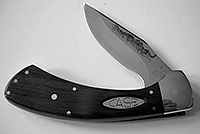 This knife is a 5 1/4″ single-blade side locking knife known as a sidewinder.  They do not have a pattern number and have the name etched on the blade.
---
Sleeveboard:
The sleeveboard name does not describe any one particular knife. The term can be used to describe many knives. There are sleeveboard pen knives, sleeveboard jack knives etc.  The term comes from the shape of the handle.  The ends are rounded and the handle tapers from front to back.  Any knife with this feature may be called a sleeveboard.
---
Slimlock: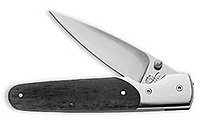 The slimlock is a knife that Case began manufacturing in 2005. They have the factory pattern number 73.
---
Sodbuster: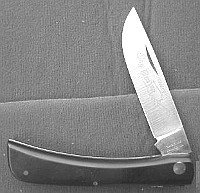 The sodbuster is a clasp style jack knife that measures 5 5/8″ closed and has the pattern #38.
---
Sodbuster Jr.: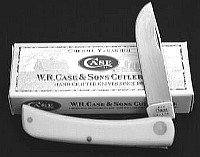 The sod buster jr. is a 3 5/8″ clasp style jack knife that has the pattern # 37.
---
Sowbelly: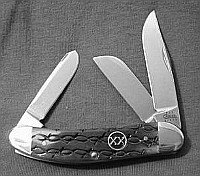 The first Case sowbelly knives were last made during the tested era and are rare finds. Case re-introduced a newer version of the knife style in 2002 with the pattern #39.
---
Stockman:
Also referred to as stock knives or premium stock knives.
Stockman knives are said to have originated from the cattleman's knife.  They are similar in character, but are a bit less bulky.  They always have at least two back-springs that support at least three blades.  Some stockman knives have been manufactured with four and five blades, with the five blade versions having three springs.  Case has manufactured a large variety of stockman knives each of different size and/or shape. The seven most popular patterns and the ones shown below are the18, 27, 32, 33, 44, 47, 75, 087, and 92.  Most stockman knives have a clip master blade along with a second and third blade consisting of one of the following: sheepsfoot, spey, pen, or punch.  You will usually find that the smaller versions often have a clip, sheepfoot and pen blade, or clip spey and pen blade.
---
Sun Fish:
---
Swayback:
---
Swell Center Hunter:
---
Swell End Jack:
---
Swing-Guard:
A swing guard knife refers to any knife that has a swing guard feature.  The most popular pattern is the #11 cheetah.  Others include the jaguar, and in some cases the large coke bottle.
---
Have Knives to sell? We offer exciting selling opportunities!
If you are a regular seller of knives, you definitely need to check out our knife specific retail platform. It is an extraordinary venue for buying & selling knives. Inventory turnover is great & the commission rate is incredibly low. Visit our getting started selling page to learn more!
If you are not a knife retailer & just have a few knives, or a collection of knives you want to sell; many of our members buy knives & knife collections of all sizes. If you would like to get offers, contact us & tell us what you've got. We'll pass your info on to the many buyers who may be interested.