Custom made replacement KA-BAR combat knife sheath LEFT HAND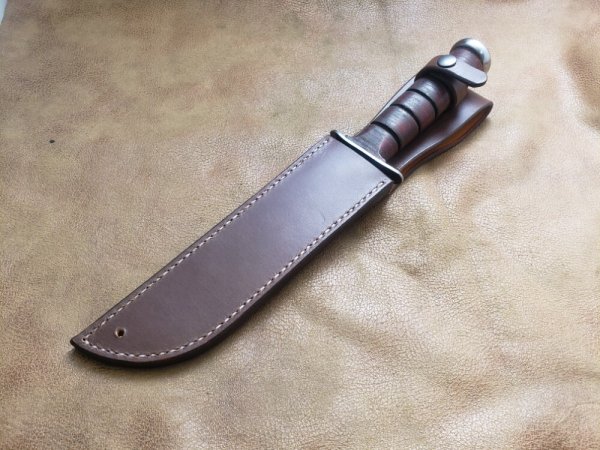 LEFT HAND Custom made, hand stitched from 8-9 oz veg tan bridle leather. Uniformly dyed a medium brown, moisturized and sealed to remain flexible and help repel moisture.  Patterned off an original WWII era sheath but crafted from superior materials. Will fit most 7" blade "KA-BAR" style combat knives including USMC and NAVY Mk2 KA-BAR, Camillus, Ontario, Robeson and others. Each sheath is individually cut, glued, edged, burnished, punched and sewn by hand in THE U.S.A. By me.
Accepted payment methods are cash or money order. I do NOT accept any form of digital or online payment. Payment is due within 7 business days of the purchase date. I also trade for silver.

Shipping Details:
Shipping & Handling to United States Addresses: $8.00
---
Shipping Discounts Available for Multiple Items Purchased from Muskrat Man Knives:
If this item is purchased with another item from Muskrat Man Knives that has a shipping cost of $8.00 or more, standard shipping to US addresses for this item will be discounted to $0.00.
Viewed 744 Times
Check Out More Great Products Related To This One!!!