Shehroz Azmat Fancy Engraved Folder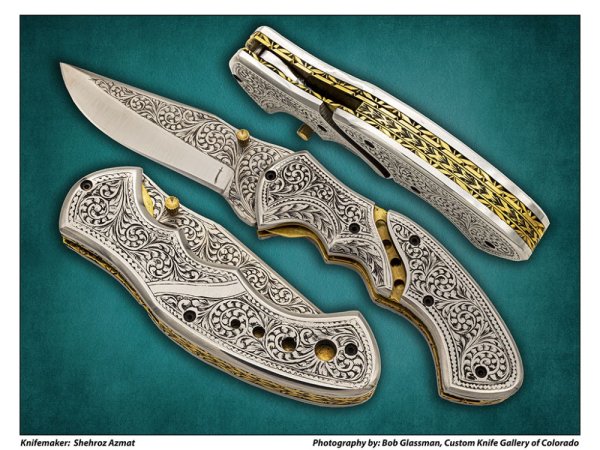 Knife Specifications: Sole Authorship Fancy Engraved Folder
Blade Length: 4″
Overall Length: 8.25″
Blade Type: Fighter
Blade Composition: 420J2 Stainless
Handle Material: Engraved 420J2 Stainless
Other Features: Shehroz has provided us with this beautiful engraved tactical folder. The blade and handle are made from 420J2 stainless steel.  The liners are made from brass.  All are embellished with beautiful and intricate filework. This piece also features shehrozs' own hand engraving. The knife handle will accommodate even the largest hand and is finished to provide a wonderful ergonomic feel, like it is an extension of your hand.  The blade is both engraved and exceptionally sharp as well. Shehroz is a very skilled, self taught craftsman and has provided a very usable piece in this knife with the intricate embellishments of an art knife and the shape and feel of a tactial folder.. Thank you for this lovely piece of work Shehroz.  I am sure I am not the only one that will enjoy it.
For Sale By: Custom Knife Gallery of Colorado (rglassma)
Accepted Payments: PayPal
Shipping Details:
Shipping & Handling to United States Addresses: $35.00
---
Shipping Discounts Available for Multiple Items Purchased from Custom Knife Gallery of Colorado:
If this item is purchased with another item from Custom Knife Gallery of Colorado that has a shipping cost of $35.00 or more, standard shipping to US addresses for this item will be discounted to $25.00.
Viewed 261 Times
Check Out More Great Products Related To This One!!!