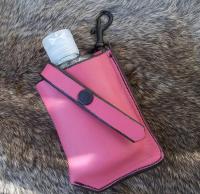 Larger Pictures / More Details
Please Note:

Go to the below site to check shipping times
This is a custom pink hand sanitizer carrying pouch which can be attached to nearly anything by the spring clip attached. Great for kids and adults. There are several exotic skins, stain colors, thread colors, and tooling to choose from just contact for custom designs.