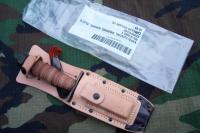 Larger Pictures / More Details
Please Note:

Go to the below site to check shipping times
As you can see this knife has been in storage in its original packaging for several years and were never issued out to servicemen & women. The knives had been stored in the original leather sheath which was covered with the original plastic from the manufacturer. In the plastic there is also the original lanyard cord wrapped in the original paper, and the sharpening stone made by Norton Pike which is stored in a pouch on the sheath. The case cardboard box and the sheath is dated 12/83 however the butt of the knife is stamped "Camillus N.Y. 10-1983". This knife is a collector's item for knife and military collector. The exact date on the knives will vary but all are either 1983 or 1984.

The manufacturer Camillus Cutlery Company was one of the oldest knife manufacturers in the United States with roots dating back to 1876. The company manufactured Camillus branded knives and was a prolific contractor for other knife brands up until its last days in 2007 when the company filed for bankruptcy. Sadly Camillus closed its doors in February 2007, bring to an end this fine old brand that has yet to be fully recognized for its contributions to the cutlery industry spanning across parts of 3 centuries, from 1876 to 2007.