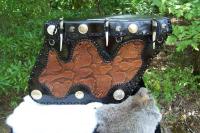 Larger Pictures / More Details
Please Note:

Go to the below site to check shipping times
This is a custom leather set of motorcycle saddle bags. This unique set was repaired by me however I can custom make a new set for you. They have several silver conches and a large outlay of REAL python skin. The closures are made of real deer antler. It has an aluminum frame with a metal securement plate in the inside of the bags to strengthen and allow for mounting. On the right bag there is a holster mounted on the side for easy carry and draw from the riding position (model of gun holster can vary) Measurement are: 19" from left to right, 17" from top to bottom and 7 1/2" wide. Several stain colors, thread color, snake skin, conches, and tooling to choose from. Contact for custom designs.