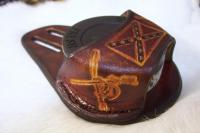 Larger Pictures / More Details
Please Note:

Go to the below site to check shipping times
This is a Custom Leather Snuff / Dip Can Belt Pouch Holster which is made from 6-7 oz leather. It is stained with brown and wet molded to fit a dip can. It is equipped with a belt holes to easily attach to your belt. There are several stamps and designs that can be put on your pouch including personalization like initials or names. There also several stain and thread colors to choose from as well. Contact for custom designs.