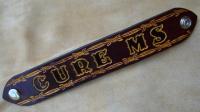 Larger Pictures / More Details
Please Note:

Go to the below site to check shipping times
This is a handmade leather MS Cure support wrist band handcrafted by RMB Custom Leather (www.rmbcustomleather). It is made of 5/6 oz 100 % leather with a snap to secure it to your wrist. Display your support to the world for a cure for Multiple Sclerosis.