I learned this from an old trapper who uses a 50/50 mixture of white vinegar and water to clean up old rusty traps (some that even looked to me like were beyond use). For traps depending on the severity of the rust he soaked them for up to a week. I had been wanting to apply this to knife repair and got my chance when I was sent this crusty old Schrade cut Co 4 1/4" switchblade. It was badly rusted, the bushing was fuzed to the blade and the bolsters were fused to the liners making disassembly and cleanup very difficult. I made up a small batch of the mixture and tossed the knife in and left it for 24 hrs. I pulled it out, rinsed it off and scrubbed it with a brass bristle brush under running water. Most of the rust was gone and left a dull even finish on the mild steel parts and turned the tool steel parts (blade, button lever) a very dark grey, all of the rust just washed right away. It freed up the fused parts and allowed me to remove the bolsters and separate the blade from the blade bushing and perform a more in depth restoration of this knife. This is something to keep in mind if you find and crusty old jewel in the bottom of a tackle box at the flea market for $1 but everything is rusted shut (I wish I had known about this trick 6 years ago). For the record, I am not sure how this will affect various handle materials. I soaked a bone handled knife in straight vinegar and it didn't seem to have any adverse effects at the time,
but some kind of reaction happens when the vinegar is mixed with water because straight vinegar won't do nearly as good of a job as fast as the 50/50 mix does.
Before: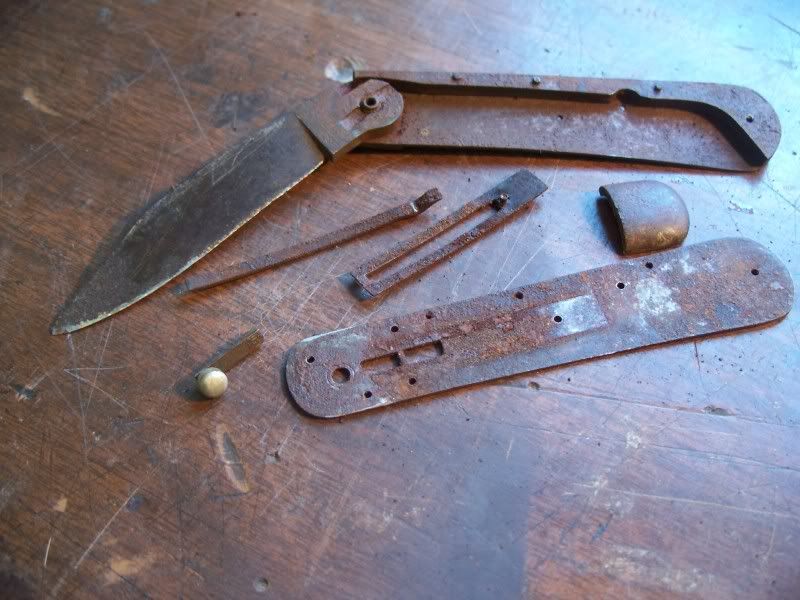 After: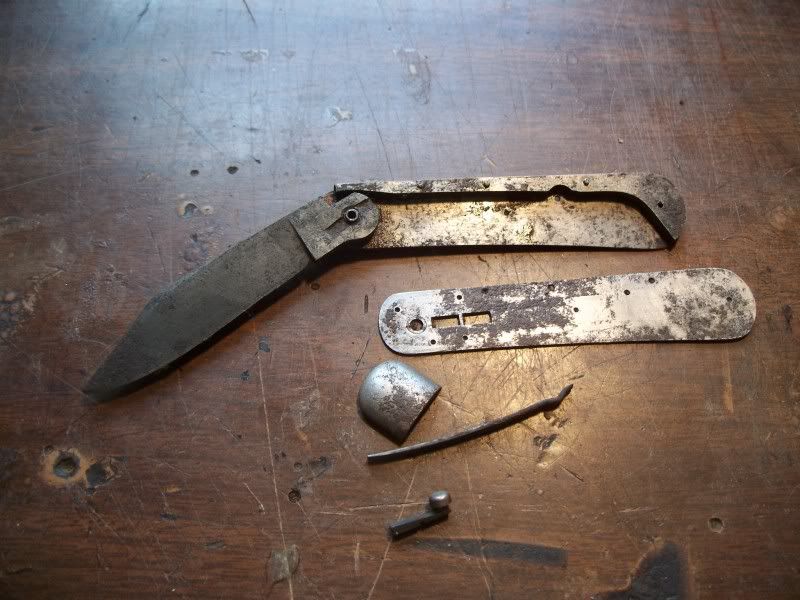 A light wire wheeling after this photo was taken had all parts fully cleaned as you can see some of the thickest rust was still present in some areas, a longer soak probably would have removed this as well. Even without lubrication after the knife was reassembled and ready for me to install the new handles it fired and locked as well as if it just came off the assembly line in NY.
Just saying don't use vinegar straight as it will eat metal up fast....much worst than diluted. You stated otherwise. Not trying to pick a fight....just trying to warn someone before they think they can use straight vinegar without diluting it to get a better result. In my experience all you come back with is pieces of metal.