lt632ret wrote:
Hello that was an amazing video. Frankly I always knew what they did but not exactly how. it was interesting for me since I was given some time ago, a large box of steel shield patterns ( I guess that would be the name ) it was the pattern part that is placed on the knife for the parser to go into. In any event these were the actual ones that were used on the original G Schrade shield inletting machine in fact it was the same machine in the book written by his son George Schrade and his accomplishments. When I got these I was told that the actual machine was long gone. That being said there is a bit more to this story that your film suddenly made clear to me.

Perhapes 15 years ago I was in the factory and I met a senior employee who had been with the firm for many years. While talking to him he mentioned that Henry Baer had given him many years ago a strange looking tool of some kind. The employee had said that when he was given it Baer had said that it was an important piece of prototype cutlery history but that he ( the employee ) did not remember what Baer said it was for. I tried to buy it or at least see it but the fellow said that perhapes in the future but right now he wanted to keep it. Then one day years later I saw an ad I forget where, I believe it was pre ebay in any event I bought it sight unseen . I got it in the mail but did find out that it was the implement and the same person who had retired and was or had moved to Florida.

I have it kind of suspended between two display cases over my desk . I have stared at it virtually every day, it appeared obvious that it was used in shielding but frankly I am not very mechanical so I just was not seeing how it was used ( and it really is pretty obvious ). There is a changable point cutting tip. then a flywheel the center is a round piece that goes in a chuck like a drill bit . There is a wood double handle to hold it steady once a variable speed power source is applied. There is a string on the handle which is not used in the use of the tool but merely to store it on a hook or similar. it is kind of a cross between a parser, router, drill bit whatever and it might have very well been part of that original inletter or at least something involved in its invention. I do not know why it just didn't sink in until I saw your video.

I am including some pics of the tool . It is to cold to go out and try to show the box of old pattern dies. Thankyou Stephen and should you come accross any old cutlers tool I am in the market for the museum. Thanks again LT PS one of the tines I believe is broken off the bit.
That is a very interesting tool, I have seen an old film of a tool maker in Sheffield I think around the 70's using one of them,

they are very similar to the parser i use but on yours the bow is attached.
I have worked with a couple of people who visited the Schrade factory when Schrade took over Rodgers and Wostenholms in Sheffield, yours might of originally come from Sheffield back then.
here's a picture of my parsers,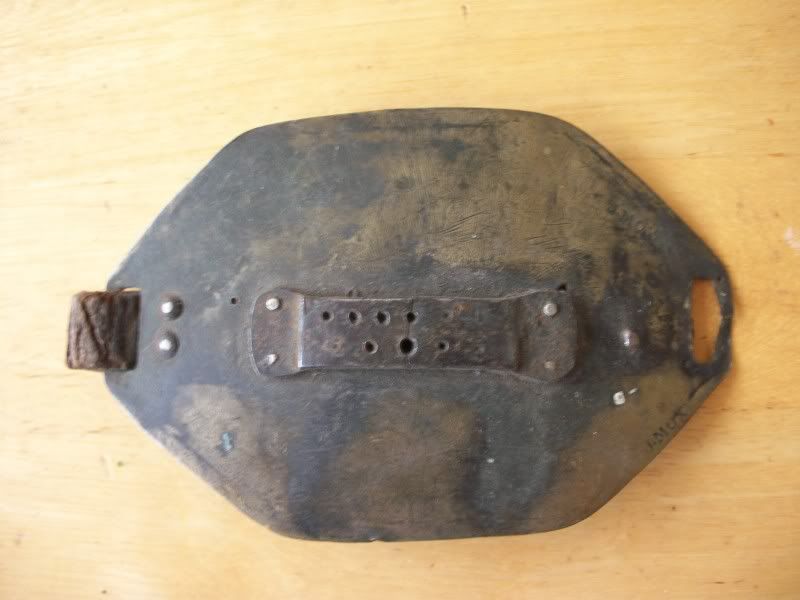 here's the breast plate which you wear on you chest, stamped on it is "J mox" this may of been the cutler who it orginally belonged to.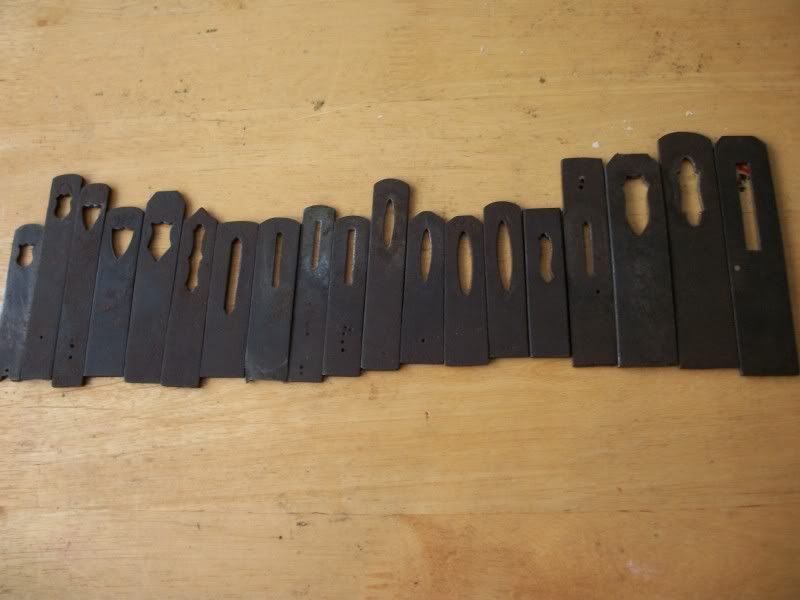 various shield templates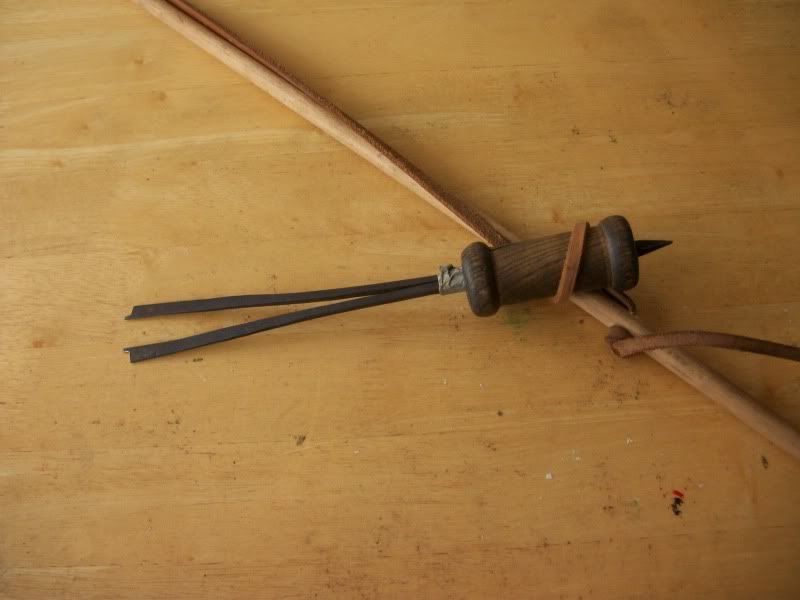 The parser with the bow around the bobbin
heres a knife i have made and inlayed a shield using a parser.
Ballenxj wrote:
steven cocker wrote:
Just going through post on this great forum

and found the above Video, of a Parser the young man
in the film is me
when i worked for Taylors eye witness Sheffield back in 2008. I still use a parser on my knives to inlay shields.
How COOL is THAT? I mean finding yourself in a video from years back.

-Bruce
I remembered when i saw it cant believe it was 5 years ago