Here are some up for sale or trade.

........pm me with questions and offers.

1. 1998 Case Trapper 6254.....nice bone scales.
traded
2. Kershaw Scallions A/O half serrated NIB.
traded
3. Nice unmarked Buck 110 style lockback...brass liners,pins and cool bolsters...heavy , well built knife.
4. German Boker 1979 LTD...wood scales and nice etch..Hardware Industry.
traded
5. Camillus 1876-1976 Anniversary Edition knife with slanted bolsters and sawcut Delrin scales.
traded
6. 3 Parker Little Duchess mini toothpicks.....marked Japan on pile side of blade.
traded
7. Robeson 2 blade Pen with strawberry jigged Delrin scales.
sold
8. Schrade Barlow Scrimshaw Series....nice Delrin scales.
9. Nice Western W39 E fixed blade....looks like its never been sharpened...have sheath but not original.
no longer for sale or trade
10. Rare Western #292 Trapper with black synthetic jigged scales.
Attachments:
Case.JPG [ 516.2 KiB | Viewed 964 times ]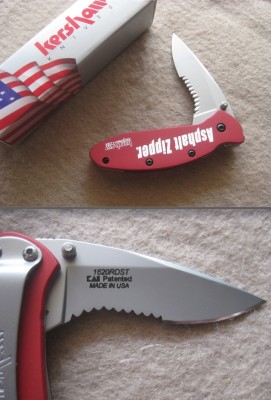 Kershaw.jpg [ 233.72 KiB | Viewed 964 times ]
unmarked.JPG [ 584.89 KiB | Viewed 876 times ]
Boker 1979 LTD.JPG [ 558.42 KiB | Viewed 709 times ]
Camillus 1876-1976.JPG [ 522.08 KiB | Viewed 709 times ]
Parkers.JPG [ 580.17 KiB | Viewed 709 times ]
Robeson.JPG [ 585.08 KiB | Viewed 708 times ]
Schrade.JPG [ 493.2 KiB | Viewed 708 times ]
Western W39 E.JPG [ 561.19 KiB | Viewed 708 times ]
Western 292.JPG [ 748.1 KiB | Viewed 708 times ]