When WWII began, Cattaraugus ceased their regular production and began making knives exclusively for the military.  During this time, the company was honored with an "E" for excellence in production from both the Army and Navy.  Their military knives were among the best.  Some knives that were made during this time include the 225Q Commando knife, the folding machete, and several others.  I will list a few below:
---
225Q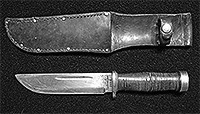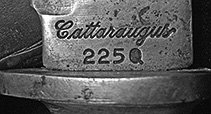 This knife was Cattaraugus' most produced knife during the second world war.  It is a 10 3/8″ fixed blade knife that collectors sometimes refer to as a Commando or WWII fighting knife.  They have leather washer handles and a high carbon steel blade.  The knife never really seen much active combat as most were issued to the Navy for opening crates.
---
WWII Folding Machete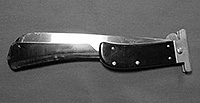 This machete was a very popular WWII item and was one of Cattaraugus' largest productions during the war.  They measure 11 1/2″ closed, have black plastic handles, and black metal guards that cover the front of the blade when closed.  They generally sell for close to $200 when in near mint condition.